Boca Raton Title Company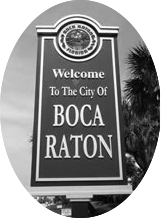 The purpose of Title Insurance is to protect an Owner against risks and losses caused by flaws in title arising from events that happened in the past. In sum, it protects the Owner against loss due to defects that were not discovered at the time of the sale of your Boca Raton area property. Clear2Close Title & Escrow, LLC insures your "peace of mind." Whether you're purchasing a home or a commercial property in the Boca Raton area, knowing what to expect when your transaction closes is essential. As part of a seamless transaction, Clear2Close Title & Escrow, LLC is the core team working behind the scenes to ensure your title search is completed early in the closing process, eliminating unwelcome surprises.
Why Choose Our Boca Raton Title Company?
Through Clear2Close Title & Escrow, LLC you will be able to purchase one of the most trusted title insurance policies available at a very competitive rate with competitively low settlement fees in the Boca Raton area. Our Boca Raton Title Company is an attorney owned title and escrow company that will work with all necessary parties to spearhead the coordination of the transactional closing details. We have the ability to schedule end of the month closings, at convenient and flexible locations.
Contact us today at info@clear2closefl.com to inquire further about our services and obtain your free title quote. We can also be reached by phone at 561.600.0448 or in office at our Palm Beach location at 814 W. Lantana Rd., Suite 2B, Lantana, Florida 33462, just a few short miles from Boca Raton, Florida. Clear2Close wants to be your trusted Boca Raton Title Company.
Atlantis Title Company - Belle Glade Title Company - Boca Raton Title Company - Boca Rio Br Title Company - Boynton Beach Title Company - Delray Beach Title Company - Greenacres Title Company - Haverhill Title Company - Highland Beach Title Company - Hypoluxo Title Company - Jog Road Title Company - Juno Beach Title Company - Jupiter Title Company - Lake Harbor Title Company - Lake Park Title Company - Lake Worth Title Company - Lantana Title Company - Loxahatchee Title Company - Manalapan Title Company - North Palm Beach Title Company - Northwood Title Company - Ocean Ridge Title Company - Pahokee Title Company - Palm Beach Title Company - Palm Beach Gardens Title Company - Palm Beach Gardens Mall Title Company - Palm Beach Shores Title Company - Palm Springs Title Company - Palms Central Title Company - Palms West Title Company - Riviera Beach Title Company - Royal Palm Beach Title Company - Singer Island Title Company - South Bay Title Company - Tequesta Title Company - Village of Golf Title Company - Wellington Title Company - West Delray Beach Title Company - West Palm Beach Title Company