Lantana Florida Title Company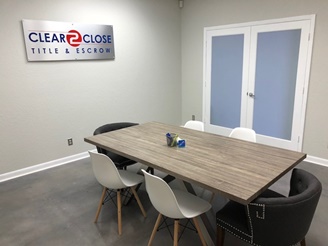 Clear2Close Title & Escrow is owned by Florida real estate attorney Ryan S. Shipp who is an active member of The Florida Bar and founder of The Law Office of Ryan S. Shipp, PLLC. With a passion in Real Estate, Mr. Shipp opened Clear2Close Title & Escrow with one goal: To offer homeowners, lenders, attorneys, real estate agents, brokers and vendors the comfort of knowing that their real estate transaction, whether it be residential or commercial, will be handled in an efficient manner by experienced, detail oriented, and dedicated professionals.
Lantana Title Services
Clear2Close Title & Escrow is an industry leader with a strong presence in Lantana and throughout South Florida. With our family of companies, including three (3) law firms and a management company, we are able to provide excellent service throughout the State of Florida. We believe in doing whatever it takes to close even the toughest real estate transactions smoothly and on time. Our team of closers and settlement agents have the local knowledge of your specific area to help you with your transactions.
Lantana Escrow Services
Clear2Close Title & Escrow's Escrow Division in Lantana has been providing our customers with unparalleled service, no matter how large or complex the transaction. With the understanding that whether you are purchasing your first home, refinancing, or closing a multimillion dollar commercial transaction, our escrow staff is ready to "Do Whatever it Takes" to make sure your transaction has the Clear2Close. We offer our customers a full spectrum of escrow services, including- but not limited to- Builder Escrows, Bulk Sales, Commercial/Land/Industrial, Resales, and Refinance transactions.
Lantana Commercial Division
Clear2Close Title & Escrow's Commercial Division is designed to accommodate all aspects of commercial transactions. Utilizing the knowledge and experience of tested professionals, Clear2Close Title & Escrow's Commercial Division is able to close the most challenging transactions. The division, located in Lantana, Florida, provides expertise in all types of title work including commercial developments, resales, project finance, investment properties and 1031 exchanges.

Atlantis Title Company - Belle Glade Title Company - Boca Raton Title Company - Boca Rio Br Title Company - Boynton Beach Title Company - Delray Beach Title Company - Greenacres Title Company - Haverhill Title Company - Highland Beach Title Company - Hypoluxo Title Company - Jog Road Title Company - Juno Beach Title Company - Jupiter Title Company - Lake Harbor Title Company - Lake Park Title Company - Lake Worth Title Company - Lantana Title Company - Loxahatchee Title Company - Manalapan Title Company - North Palm Beach Title Company - Northwood Title Company - Ocean Ridge Title Company - Pahokee Title Company - Palm Beach Title Company - Palm Beach Gardens Title Company - Palm Beach Gardens Mall Title Company - Palm Beach Shores Title Company - Palm Springs Title Company - Palms Central Title Company - Palms West Title Company - Riviera Beach Title Company - Royal Palm Beach Title Company - Singer Island Title Company - South Bay Title Company - Tequesta Title Company - Village of Golf Title Company - Wellington Title Company - West Delray Beach Title Company - West Palm Beach Title Company